Each year during our annual conference and AGM, UMNB presents awards to municipal elected officials and volunteers as nominated by our membership. We congratulate and thank the recipients for their dedication to municipal public service. 
Nominations are now open for the 2019 memorial awards. Please view eligibility information and how to submit on our conference website here. 
RAYMOND MURPHY MEMORIAL AWARD
The Raymond Murphy Memorial Award was established in 2017 in honour and memory of our past President, Executive Director, and friend Raymond Murphy of Rexton NB. Raymond was a man who loved his community deeply, and who devoted his whole life and his whole heart to public service. His legacy lives on in the lives he touched, the causes he advanced, and the community he made better through his efforts.
2018 Recipient: Scott Dunlop, an outstanding community volunteer who has worked tirelessly to improve the quality of life for residents of Woodstock and Carleton County.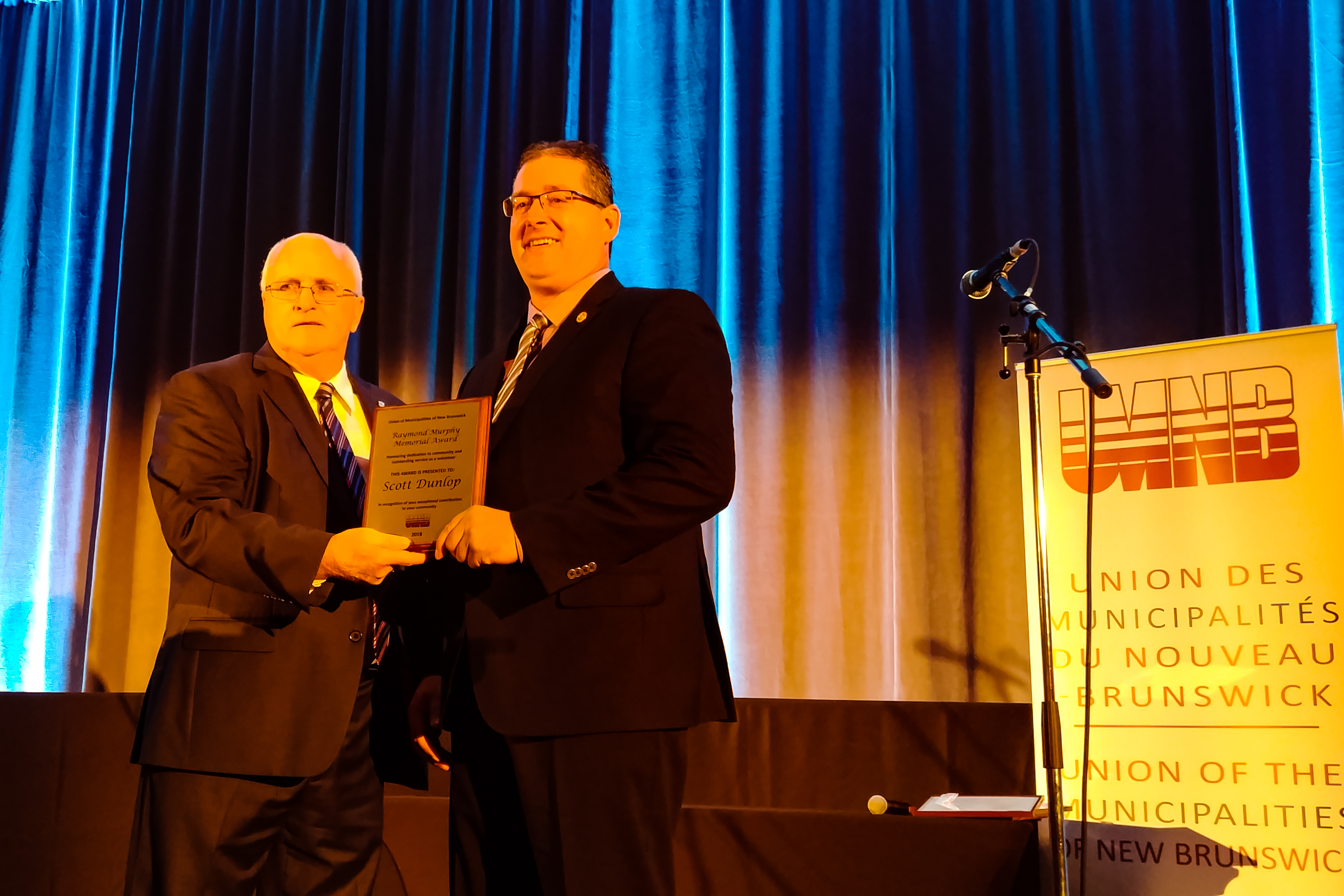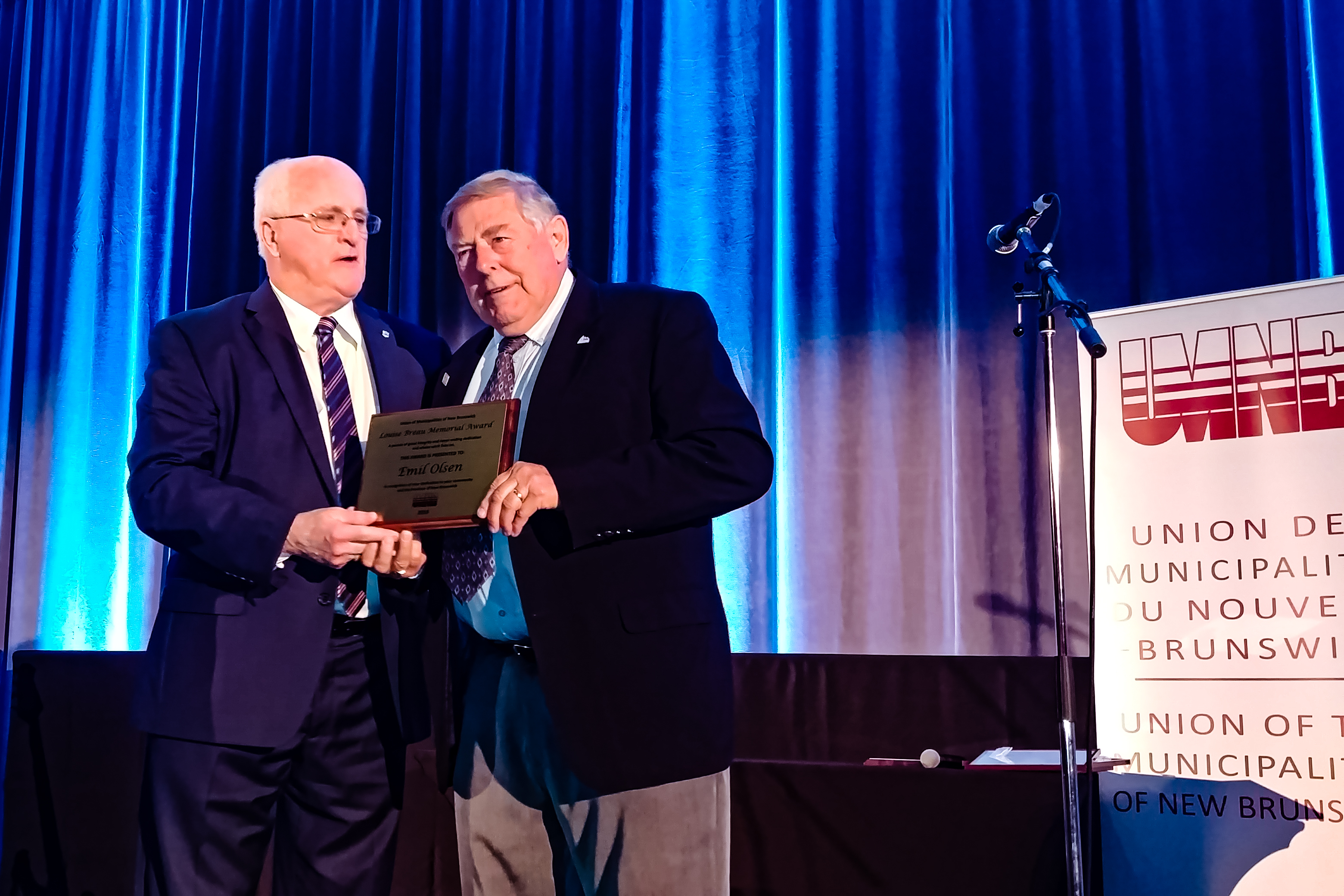 LOUISE BREAU MEMORIAL AWARD
The late Mayor Louise Breau of Millville NB was a person of great integrity and never-ending dedication. She worked diligently for the betterment of municipalities in New Brunswick, without thinking of her own gain. Louise was a reliable, sincere and dynamic person who always had a smile and the time to listen. She was a person who wanted to be involved and would help out in any way, no matter how big or small the effort was on her part.
2018 Recipient: Emil Olsen, a veteran member of council, volunteer, and community servant who has spent his life saying "yes!" when asked to chair yet another committee, "how can I help?"when important causes needed time and money, and "let's get to work" when groups needed his expertise.
2018 – Emil Olsen, Councillor/Deputy Mayor, Quispamsis
2017 – Cyril Rioux, Mayor, Drummond
2016 – Beverly Forbes, Mayor, Millville
2015 – William J. Bishop, Mayor, Rothesay
2014 – Darrell Giggie, Mayor Florenceville-Bristol
2013 – Frank Dunn, Councillor, New Maryland
2012 – Robert Harquail, Councillor, Dalhousie
2011 – Karen Titus, Mayor/Councillor, Perth-Andover
2010 – Carole Doherty, Mayor, Chipman
2009 – Alexander (Sandy) MacLean, Mayor/Councillor, Dalhousie
2008 – Walter Brown, Councillor/Deputy Mayor, Fredericton
2007 – Eric Steeves (post-humous), Mayor, Hillsborough; Dr. James Purdy, Councillor, Sackville
2006 – Hugh Morris (post-humous), Mayor, Charlo
2005 – Burpee Wagner, Mayor, Perth-Andover
2004 – Stanley Graham, Mayor, Millville
2003 – Oscar Boyd, Mayor, Norton
2002 – J. Craig Melanson, Mayor, Nackawic
2001 – Alan Gillmor, Mayor, St. Stephen
2000 – Benson H. Parker, Mayor, Doaktown
1999 – Robert B. Simpson, Mayor, Nackawic
1998 – Ronald R. (Tchine) Long, Mayor, Clair
1997 – J. Raymond Lagacé, Mayor, Atholville
1996 – Fay L. Tidd, Mayor, Oromocto
1995 – Laura Reynolds, Mayor, Plaster Rock
1994 – James Watt, Mayor, Gondola Point