Grand Manan
Union of the municipalities of
New Brunswick
Fredericton
Union of the municipalities of
New Brunswick
Drummond
Union of the municipalities of
New Brunswick
Sussex
Union of the municipalities of
New Brunswick
St. George
Union of the municipalities of
New Brunswick
Florenceville-Bristol
Union of the municipalities of
New Brunswick
Blacks Harbour
Union of the municipalities of
New Brunswick
Centreville
Union of the municipalities of
New Brunswick
Blackville
Union of the municipalities of
New Brunswick
Rothesay
Union of the municipalities of
New Brunswick
Harvey
Union of the municipalities of
New Brunswick
New Maryland
Union of the municipalities of
New Brunswick
Charlo
Union of the municipalities of
New Brunswick
Quispamsis
Union of the municipalities of
New Brunswick
Riverview
Union of the municipalities of
New Brunswick
Grand Falls
Union of the municipalities of
New Brunswick
Gagetown
Union of the municipalities of
New Brunswick
Upper Miramichi
Union of the municipalities of
New Brunswick
Salisbury
Union of the municipalities of
New Brunswick
Hampton
Union of the municipalities of
New Brunswick
Dalhousie
Union of the municipalities of
New Brunswick
Perth-Andover
Union of the municipalities of
New Brunswick
Chipman
Union of the municipalities of
New Brunswick
Shediac
Union of the municipalities of
New Brunswick
Doaktown
Union of the municipalities of
New Brunswick
It's budget week! UMNB will be participating in tomorrow's budget lockdown, we have our communications webinar this week, news on an ACOA announcement, and a series of webinars aimed at addressing barrier's to women's participation in politics. As usual, all that and...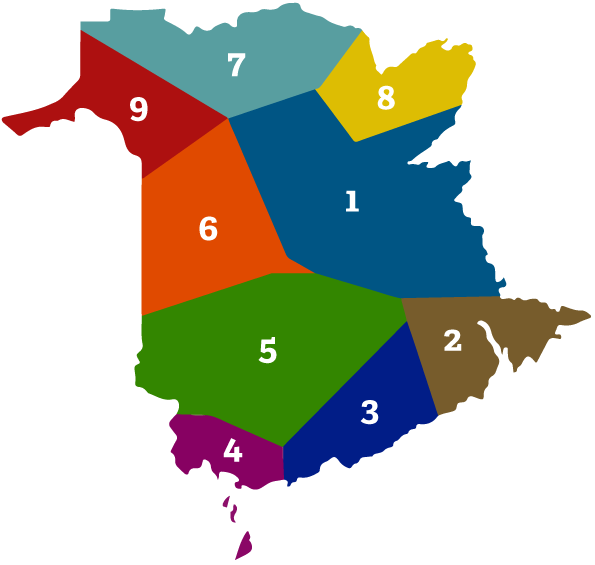 Zone 1
Blackville • Chipman • Doaktown • Minto • Miramichi • Rexton • Richibucto • Upper Miramichi
Zone 2
Alma • Dieppe • Dorchester • Hillsborough • Petitcodiac • Port Elgin • Riverside–Albert • Riverview • Sackville • Salisbury • Shediac
Zone 3
GrandBay–Westfield • Hampton • Norton • Quispamsis • Rothesay • St. Martins • Sussex • Sussex Corner
Zone 4
Blacks Harbour • Campobello Island • Grand Manan • McAdam • Saint Andrews • St. George • St. Stephen
Zone 5
Cambridge Narrows • Fredericton • Fredericton Junction • Gagetown • Hanwell Rural Community • Harvey • New Maryland • Oromocto
Zone 6
Aroostook • Bath • Canterbury • Centreville • Florenceville-Bristol • Meductic • Millville • Nackawic • Perth-Andover • Plaster Rock • Stanley • Woodstock
Zone 7
Belledune • Charlo • Dalhousie • Tide Head
Zone 9
Drummond • Grand Falls
The beginning of May has been a busy one at UMNB. From meetings with the Government, zone meetings and our upcoming in person Board of Directors meeting on May 13-14; we have lots to share with you! BULLETIN #119 - May 9/ 9 mai  Past issues of the Bulletin can be...
Happy Monday Readers! This week's Bulletin brings lots of exciting news you won't want to miss. It's time to book those rooms for the Annual Conference on October 7-9 at the Delta Fredericton, key notes on the release of the Federal Budget last Thursday and the return...
Bulletin #114 Post SOTP It's that day of the week again, happy Monday readers! This week we come to you with a recap on the State of the Province dinner, where we had a number of our municipalities represented, the return of the Provincial Municipal Council and a...
The bulletin is back for another week! This week we're coming to you with news on the provincial budget, introducing our new team member Vanessa, and some more information on reform. UMNB will also be developing another Q&A on reform this week, if you have...