Grand Manan
Union of the municipalities of
New Brunswick
Fredericton
Union of the municipalities of
New Brunswick
Drummond
Union of the municipalities of
New Brunswick
Sussex
Union of the municipalities of
New Brunswick
St. George
Union of the municipalities of
New Brunswick
Florenceville-Bristol
Union of the municipalities of
New Brunswick
Blacks Harbour
Union of the municipalities of
New Brunswick
Centreville
Union of the municipalities of
New Brunswick
Blackville
Union of the municipalities of
New Brunswick
Rothesay
Union of the municipalities of
New Brunswick
Harvey
Union of the municipalities of
New Brunswick
New Maryland
Union of the municipalities of
New Brunswick
Charlo
Union of the municipalities of
New Brunswick
Quispamsis
Union of the municipalities of
New Brunswick
Riverview
Union of the municipalities of
New Brunswick
Grand Falls
Union of the municipalities of
New Brunswick
Gagetown
Union of the municipalities of
New Brunswick
Upper Miramichi
Union of the municipalities of
New Brunswick
Salisbury
Union of the municipalities of
New Brunswick
Hampton
Union of the municipalities of
New Brunswick
Dalhousie
Union of the municipalities of
New Brunswick
Perth-Andover
Union of the municipalities of
New Brunswick
Chipman
Union of the municipalities of
New Brunswick
Shediac
Union of the municipalities of
New Brunswick
Doaktown
Union of the municipalities of
New Brunswick
How are we at the end of March already? This week we bring you a provincial budget recap, the agenda for the Local Government Orientation this Friday March 31 and a last call for new committee members! To read more, click the link below. BULLETIN #163 Past issues of...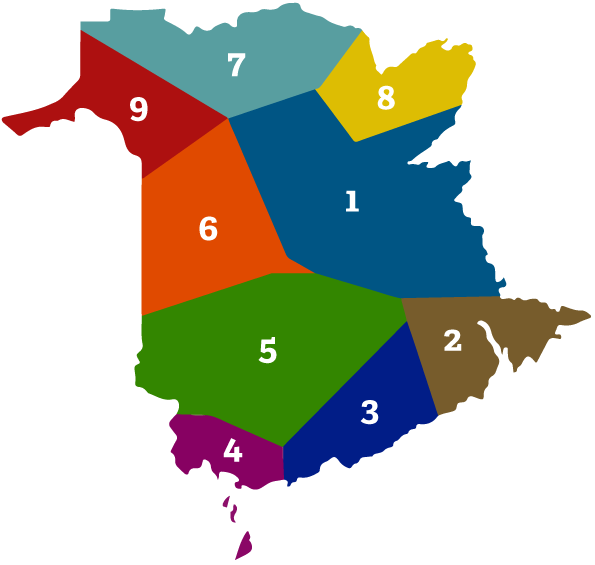 Zone 1
Alnwick • Beaurivage • Champdore • Doaktown • Five Rivers •  Grand Lake • Miramichi • Miramichi River Valley  
Zone 2
Dieppe • Fundy Albert • Maple Hills •  Memramcook • Riverview • Salisbury • Shediac • Strait Shores • Trantramar • Three Rivers
Zone 3
Butternut Valley •  Fundy-St. Martins • Grand Bay–Westfield • Hampton • Quispamsis • Rothesay • Sussex • Valley Waters
Zone 4
Campobello Island • Eastern Charlotte • Fundy Shores •  Grand Manan • McAdam • Saint Andrews • St. Stephen
Zone 5
Arcadia • Central York • Fredericton • Fredericton Junction • Hanwell Rural Community • Harvey •  New Maryland • Oromocto 
Zone 6
Carleton North • Hartland • Lakeland Ridges • Nackawic-Millville • Nashwaak • Southern Victoria • Tobique Valley • Woodstock
Zone 7
Belledune • Campbellton • Heron Bay
Zone 8
Bathurst
Zone 9
Grand Falls
Happy Thursday Readers! We would like to remind everyone our office will be closed Monday, May 22 for Victoria Day and will resume regular hours on May 23. This week we share updates from our Board of Directors meeting, information from the Local Governance Commission...
Happy Monday, Readers! This week, we bring you the launch of the Atlantic Municipal Magazine, an update on a joint letter from municipal partners across the country and FCM regarding RCMP retroactive costs and a number of upcoming webinars, including one this Thursday...
We hope everyone had a great long weekend. This week we bring you a number of upcoming webinars including a UNB study on Outdoor play structures in municipalities, a joint statement regarding the RCMP retroactive salary costs and an update on UMNB committees. To learn...
We hope everyone is having a great week so far! Our office will be closed Friday, April 7 and Monday, April 10 for Easter. We wish everyone a safe and happy Easter weekend! We will resume regular hours on April 11. This week we bring you a municipal lens on the...